THE PEOPLE'S LAWYER, REVOLUTIONARY LAWYER AYTAÇ ÜNSAL HAS BEEN DETERMINED BY TORTURE
AKP FASCISM CANNOT CAST A SHADOW OVER THE LEGITIMACY OF THE PEOPLE'S LAWYERS WITH ITS LIES AND SLANDER
AYTAÇ ÜNSAL IS OUR HONOR
Our colleague, our comrade, our co-worker, our colleague, Aytaç, was taken into custody in the evening with our work colleague, in Edirne, in the evening. People's lawyer, Aytaç Ünsal, was released by the Supreme Court after his health deteriorated due to the death fast he continued for months with Ebru Timtik for the right to a fair trial.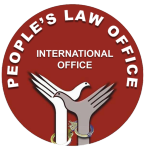 Aytaç Ünsal, who was released by postponing the execution of his sentence by the Court of Cassation on September 3, 2020, was started in a private hospital, but was discharged from there before the end of his treatment due to the intense harassment of the political police and the pressure on the hospital management. Thereupon, Aytaç Ünsal, who settled in a shanty house in the Küçükarmutlu neighborhood of Istanbul, was treated here.
Two weeks ago, on 23 November, political police raided the house where Aytaç Ünsal was being treated. There was a high risk of infection due to the Covid-19 pandemic and the collapse of the immune system due to Aytaç Ünsal's death fast. Despite this, the companions of Aytaç Ünsal, who was found in the house that was raided by dozens of police, were also detained and his belongings were plundered. This raid was an attack aimed at obstructing the treatment of Aytaç Ünsal, who was being treated under the constant pursuit and harassment of the AKP's political police, and even murder him.
It is clear that the treatment of our colleague, comrade Aytaç Ünsal, is not possible under these conditions. For this reason, our colleague was caught in a new police conspiracy while he was looking for a suitable place to continue his treatment in healthier conditions. Our colleague Aytaç Ünsal, who was already in bad health due to the death fast resistance, was tortured by the political police when he was taken into custody. Our colleague Aytaç Ünsal was taken off the vehicle and laid on the ground, stepped on it, and his head was hit on the asphalt ground. Due to this torture, Aytaç Ünsal's face and various parts of his body were injured.
The Ministry of Internal Affairs, which made a statement on the detention of our colleague, continued to lie and manipulate, just like during the case that caused our colleague to be punished unjustly and unlawfully. In the statement made by the Ministry, Our colleague Aytaç Ünsal, along with the lie that he was caught trying to flee abroad, stated that he was previously caught during the operation carried out immediately after the murder of prosecutor Mehmet Selim Kiraz and he was punished for this incident. However, our colleague was arrested two and a half years after the incident that resulted in the death of prosecutor Mehmet Selim Kiraz, and this incident was not even a subject of trial in terms of our colleague. By telling this lie, the Ministry is trying to create the perception of Aytaç Ünsal's re-arrest, as before.
Our colleague is currently held at the Anti-Terror Branch Office of the Edirne Police Department. A 48-hour detention order was arbitrarily and unlawful. Aytaç Ünsal's health condition is not suitable for detention. His health has deteriorated due to the death fast and this situation still continues. There is a high risk of infection as the immune system collapses. He is unable to walk due to damage to his nerve endings and he experiences intense pain. There is no legal reason to be detained for 48 hours. For this reason, his still detention is an arbitrary and illegal situation. Therefore, our colleague Aytaç Ünsal should be released immediately.
All our colleagues, bar associations and legal organizations to claim Aytaç Ünsal, the lawyer of the people; With our statements, actions and activities, we call the Ministry of Justice and the Ministries of Internal Affairs, by sending e-mails and faxes, to fight together for Aytaç Ünsal to regain his freedom.
TORTURE IS A CRIME OF HUMANITY!
AYTAÇ ÜNSAL IS OUR HONOR!
LET AYTAÇ ÜNSAL RELEASE!
PEOPLE'S LAW OFFICE INTERNATIONAL OFFICE
---
Source: https://www.halkinsesitv.pw/2020/12/halkn-hukuk-burosuenternasyonal-buro_10.html
---
Translation: Anadolu News Blog
---