29.10.2020
DETENTIONS AND REPRESSION CANNOT INTIMIDATE US!
LAWYER SEDA SARALDI WAS DETAINED YESTERDAY NIGHT!
On 28 October 2020, we have learned that warrants for quite a lot of our clients in 12 different provinces were released and that our clients and their relatives were catched by civil dressed persons from the early morning hours, in their houses, at their working places and some even in the middle of the street.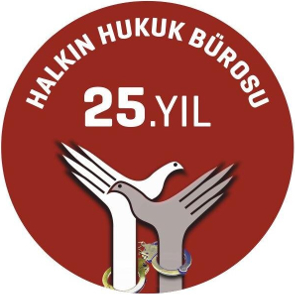 Also on 29 October many of our clients were detained in house raids during the night. Early morning news were started to be published in the media loyal to the government, in which it was stated that there were "warrants against 120 people and 99 persons taken into police custody".
The lawyer of our office, Seda Saraldi, was detained near her family in Denizli, in the scope of the same investigation. Our friend Seda Saraldi is still held at the Denizli Tavas gendarmery station.
Due to a "decision for restriction" to the investigation file, we are not given information on the case. Additionally, due to "restriction to lawyer's visit" for the period of 24 hours, it is also not possible to speak with our clients.
The way that people who struggle for democratic rights and freedoms are being detained, shows how much the fear of the political power has grown. At a point, where injustices increase, the political power seeks the solution in attacking the population and revolutionary people.
The decision for "restriction to lawyer's visit" in the scope of the investigation file, impowers the possibilty of "torture and maltreatment". Further, also the decision for restrictions regarding the content of the file shows that this is an unlawful investigation.
We know quite well, under what pretext the people's lawyer Seda Saraldi was detained. The defense of the people's rights, the lawyership for the people is not a crime. We will never give up to struggle for the rights of the people and to extend the struggle for justice.
We invite all our colleagues to come before the police headquarters at Vatan Street (Istanbul), to see the detained people. We call to all democrats, the sensible public and our people to enlarge solidarity.
LAWYER SEDA SARALDI SHALL BE RELEASED!
DOWN WITH FASCISM, LONG LIVE OUR STRUGGLE!
PEOPLE'S LAW OFFICE
---
Translation in to English: Anadolu News Blog
https://www.facebook.com/aNewsblog/photos/a.1596313077352349/2760219640961681/