Interview with Ümit Özçelik
The date is January 10, 2020, the time is around 05:00 a.m.(local time), the place is the village of Tekebaşı, located not far from the town of Samandağ(Arabic local name as-Sūwaydīyah), Hatay province, southern Turkey. Under the pretext of a "police operation," agents of the political police and heavily armed SWAT teams broke down the door and raided the Özçelik family's home. Police woke up family members sleeping at the time, hitting them with their weapons. The police aimed their weapons at the faces of the occupants of the home, and without saying anything else, they started shouting, "Lie on the ground!". 70-years old Edibe Özçelik suffered a heart attack during this police operation. Only 1 hour later, the police allowed her to be taken to the hospital in the nearby town of Samandağ, but it was too late, and mother Edibe as everyone called her, died.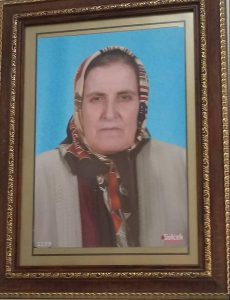 For more than 100 days, Ümit Özçelik, one of Edibe Özçelik's sons, has been struggling for justice for his mother. He is conducting daily protest action, demanding all who are responsible for the death of his mother to be tried and to give account for their actions. From Monday to Saturday, Ümit Özçelik is conducting a sit-in protest entitled "Justice for Mother Edibe!" In Abdullah Comert Park, located in the central part of the municipal center – the town of Samandağ, on Sunday, the protest took place in the center of the village of Tekebaşı. In the following lines, we present to our readers an interview with Ümit Özçelik, given by him in May this year, to a correspondent of the news agency – Gerçek.
Ümit Özçelik tells…
We live in Samandağ municipality, Hatay district. On the day of the police assault, around 04:00 – 04:30, the doors of our home were smashed with battering rams(enforcer) and hammers by the police. At first, we thought that my uncles were going to work and that's why there was a lot of noise, they usually go to work quite early. But when they started knocking on the doors with the battering rams, we realized that it was the police. My father was standing near the door.
If he had stood even closer, he could have been seriously injured. They had blocked the entire village with riot police and armed masked Gendarmerie troops. We asked the police why they were breaking into our house. They didn't answer us. We asked them if they had a search warrant. They did not show us any documents. The mayor of the village was not with them. When they went inside, they started asking the others if my brother and I were inside, then they broke into the room where we slept with assault rifles. Three SWAT team members were next to my bed. My brother and I were awakened by the barrel of their weapons pointed on our heads. As soon as I woke up, I asked if there was an ambulance outside. It is their duty, no matter what the case is, they are obliged to bring a team of funny help with an ambulance in case there is a need to provide medical assistance to someone during the operation. Of course, they did not answer me in any way.
At that time, my mother woke up because of the noise, she went to the living room of the house. My mother does not know Turkish, she only speaks her native language – Arabic. She called me by name, she asked what was going on. I tried to tell her that nothing was happening, but the police did not allow my mother to even approach us. She was not even allowed to hear our voices.
During this time, my mother felt sick. We tried to bring her an hour of water to drink, because as we all know, it helps a person to calm down, refresh, and also helps the heart to work, sometimes it can even prevent a heart attack. But the SWAT teams and the police agents did not allow us. We couldn't even give my mother a glass of water. Then my mother collapsed in the armchair. We started calling the police to call an ambulance. They, in turn, I don't know if they really called, or just pretended to call an ambulance because an ambulance didn't come for 1 hour. While searching the house, my mother got up for a moment and said, "Take me to the hospital." As soon as she said that, she fell into our arms. The ambulance never came, and my mother fainted.
We took my mother to the hospital on our own. We took her to the state hospital in the town of Samandağ. The doctor there said, "She's fine, she'll be fine in a little while," put a small serum on her, then left the room and left us together with her. After about 10 minutes, we noticed that my mother's body was starting to cool down. We told this to the doctor, but he paid no attention to us. We took my mother to another hospital, again on our own. At the other hospital, the doctor's words were as follows: "This woman is having a heart attack. Where have you been so far? Why did you bring her so late?" She came to give medicine to my mother, but because she was completely unconscious, she could not take that medicine.
The doctor told us that she needed surgery, but their hospital did not have the opportunity to do so, and for that reason, she referred us to Academica Hospital in Antakya, the capital city of the Hatay province. There my mother underwent surgery, but the doctors told us openly that we were very late. A series of irresponsibility and negligence. If you ask me whose irresponsibility, I would say – the state. We were later told that my mother had died.
The police raided our home because we were doing things that are our rights under the constitution and the laws of this country, and so they killed my mother. We have not done anything wrong. We demanded the streets in our village to be repaired. The repairs were carried out, but there is no necessary infrastructure for normal life in the village. Here in our district is held a festival of Arabs – Alevis, the police point it out as a pretext for the assault on our home. One of the reasons is also that we sell tickets for the Grup Yorum concert. Here in our village, there is a People's Council, they present our membership in this council as a crime. What does this advice do? Prevents the entry of drugs into our village, deals with the problems of the settlement. Is all this a crime?
Today, just as we struggle to hold Grup Yorum concerts, so we will always struggle. We will be in the squares and streets. For the first time we went out on the street, in front of our house, we started handing out leaflets to the residents of our village. For the first 15 days, neither the police nor the gendarmerie attacked us. The residents of our village were also very angry about what happened. Later, the police started attacking us, citing various reasons. They started telling us which slogans we could chant and which we could not. We told them that they could not tell us what to say and what not to say. That's what we call them until now. In the squares, we will tell about the struggle of Grup Yorum, about Mustafa Koçak's struggle, and the unfairly fired teachers. Because we are not fighting only for ourselves, we are on the street and for all those who are victims of injustice.
The more often we went out on the streets and squares, the more often they started attacking and detaining us. The police tried to force us to give up. They told to us, "you struggle in vain, nobody pays attention to you, nobody supports you." But the truth was that people support us, the locals express their dissatisfaction with the police when they detain us. The police also detain people who are dissatisfied with our detention. But even if local shopkeepers, traders, artisans, and the people do not show their support openly, we know that they sympathize with us. The police also threaten local traders, they tell them, "we will confiscate your phones, we know where you work, where you live, be careful". For weeks, we have been told that we are being detained for measures against the coronavirus. They keep us in the park where we are holding the protest action, applying various methods of torture on us when they release us and we return to the place, we see that the people are standing quite calmly on the benches in the park. They point to the virus as a pretext when they detain us, but while this is happening, dozens of police are pushing us everywhere. That is, all these are excuses.
In recent days, they have begun to use a lot of force against us, and various methods of torture, such as – pulling hair, hitting, beating. This shows their helplessness in the face of our struggle. They attack us mostly when we record them on video. While I was recording them, because I was not in front of the camera, the police hit me on the back and neck. Sometimes I run out of breath while being picked up in a police car and beaten. And this is not such a simple beating, it causes very sharp pain. There are very serious marks on our backs and arms. What the cops do is called torture. They handcuffed us, twisting our arms behind our backs. They punch us in the eyes, the marks of which are visible to everyone. They told us: "If you go to the park tomorrow to protest, we will beat you even worse." That's all we can tell you, friends. We will be in the squares, both for my mother and for all who seek justice.
---
Source: https://gercekhaberajansi.org/umit-ozcelik-ile-roportaj/
---
Edibe Ozcelik, Hatay, Interview, People`s Councils, Police raid, Repression, Samandag, Struggle for Justice, Tekebasi, Umit Ozcelik