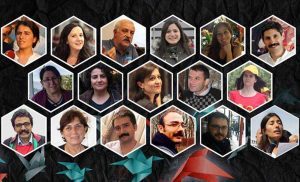 The lawyers of Peoples' Law Office (HHB) , who were arrested again after 10 hours after being released on 14 September 2018, were heard in the Silivri courtroom on 3-5 December 2018.
On the first day of the trial, secret witnesses were heard. The judge threatened to expel the lawyers from the hall, while the judge was not take in the consideration of the lawyers' any objection. The lawyers who reacted to the judge left the hall with applause.
The judge forced the witnesses who was heard by the audiovisual system to make false declaration about the lawyers of Peoples' Law Office (HHB)
He reminded the names of the lawyers to the witnesses and guided the witnesses unlawfully.
The judge constantly scolded the lawyers and did not give them the right to speak and gave warning to lawyers of the defense. But the same judge did not neglect to say 'Mr.', 'Please' to the pseudo-witnesses.
The judge frequently interrupted the lawyers when the lawyers were questioning the witnesses and asked questions to reveal the false statements of the pseudo-witnesses. The judge often threatened to evacuate lawyers out of the courtroom. Finally the lawyers left the courtroom collectively.
One of the pseudo-witnesses replied the judge, "Yes I remembered with your help Mr. President".
There was laughter among the audience. As a result, the judge removed the audience out of the hall.
On the second day of the trial, some of the defendants' lawyers, families and viewers were not taken to the courtroom, while the political branch policemen inserted a press card into their necks entered into the courtroom. The policemen were removed from the room after the objections of lawyers and defense lawyers.
On the third and last day of the hearing, the lawyers began to hear the reasons for the refusal of the judge. These demands were also denied.
As a result, a detained lawyer, Ahmet Mandacı, is being released on condition of house arrest. The remaining 5 detained lawyers were ordered to continue their detention, and decided to wait for the execution of the arrest of five lawyers wanted to be arrested. The witness statements and suspicion of escape were shown justification for this decision.