PEOPLE'S LAWYER EBRU TİMTİK DEMANDED JUSTICE FOR PEOPLE
SHE RESISTED FOR A RIGHT TO HAVE A JUST TRIAL
SHE MARTYRED ON THE 238th DAY OF DEATH FAST!
OUR MARTYR EBRU TİMTİK IS A SHINING EXAMPLE ON OUR STRUGGLES FOR JUSTICE
SHE WILL LIVE FOREVER IN OUR FIGHT FOR JUSTICE
She was a lawyer of people, she demanded justice for people, resisted for it and martyred. People's lawyer Ebru Timtik martyred on the 27 August, 238th day of death fast resistance.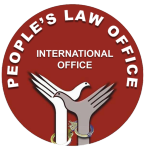 Ebru Timtik was the lawyer of the wide range of different communities. She was in solidarity and always been together with communities in the streets and resistance spaces, in courtrooms and in courthouses. She was the lawyer of the poor who wanted to driven out from their slums. She was the lawyer of the workers, who got killed in mining pits, construction areas and in factories, for the sake of the interest of the bosses. She was the lawyer of the tortured prisoners in police stations and in prisons.
She was the lawyer of Berkin, who shot and killed by police at the age of 15. As state protected the murderers, she started a hunger strike with a demand of justice for Berkin with her hungriness. When 301 miners died in the mines of Soma, a town known for mining industry, she was there for them as a lawyer. When state and it's judiciary protected the murderers again, she was there, again, with her demand for punishment against bosses in the name of justice for murdered miners.
When Statutory Decrees that were issued during the State of Emergency ruled to discharged Nuriye and Semih -a teacher and an academician- from their jobs, they hit to streets to take their jobs back. For all of these months, Ebru was there with them, resisted together with them. She demanded justice in courtrooms for them as a lawyer. As they hospitalized during their hunger strike, she was in their companion. Sometimes, she was the one whom got arrested in front of a protest to avoid Nuriye and Semih got any harm from police attacks.
When a full scale operation launched against the Kurdish population during the Diyarbakır-Sur self-defense resistance, she was there to reveal murderers in front of the gates of Sur, demanded accountability even under the threat of violence, in front of bombs and guns.
When her sister stripped away from her right to obtain a residence permit in an European country, she was there, in front of the consulate to condemn the imperialism. She handcuffed behind her back, arrested. She didn't stop demanding justice for her sister and for others despite the harsh conditions when she was protesting in front of Çağlayan Courthouse. She was always there for everyone, who demanded justice. For her comrades she was a dedicated friend, a mom and a sister.
When she was in the prisons of the fascist state, she never asked for her liberty but actively demanded it. For her, being behind the bars was an honorable position as "that mean we were fighting strongly, so they needed to captivate us." Which is right, she was a great fighter. Her hate against the enemy of the people was as great as her love for her people. Enemies were afraid of her…
Because of this, she become the target of AKP fascism together with her colleagues. On September 12, 2017, the People's Law Offices in Istanbul, Ankara, Izmir and Diyarbakır (Amed) were raided and 18 lawyers were detained and imprisoned on the orders of the political establishment, AKP government. They were unlawfully kept in solitary confinement cells for a year. In their first hearing a year later, all captive lawyers were released, but as a result of the AKP fascism's intervention in the judiciary and the pressure on the judges and prosecutors, the lawyers were arrested again only 10 hours later. Ebru did not surrender to this unlawful decision. She continued to work as the lawyer of the people in her office and trained new people's lawyers. On June 20, 2019, she was detained and arrested again in a new raid on the People's Law Office.
For what Ebru resisted to this degree, what she wanted?
The lawyers of the people was sentenced to 159 years of imprisonment, for which no legal rules were obeyed, the right to defense was destroyed, an unfair trial established, anonymous witness lied in his testimonies and only these lies from a malign witness was shown as an evidence. These punishments were also given by the intervention and instructions of the AKP fascism at every stage. In other words, a fair trial was not held in an independent and impartial court.
That's why the people's lawyers said, "We are not accepting 159 years of punishment" For this reason, our two lawyer friends Ebru and Aytaç started a death fast for the right to have a fair trial. Their aim was to seek justice through their hunger. It was to show that they did not accept this unlawfulness and that they would not bow to this injustice. They wanted a fair trial, they wanted the law to be applied. That was all they wanted. This was not just a demand limited to them. Injustice was the problem of the whole people, justice was the demand of all people. Ebru and Aytaç chose the Death Fast to draw attention to the injustices and unlawfulness they experienced and to be a voice for the people's desire for justice.
Ebru Timtik announced that they started an indefinite hunger strike on January 3, 2020, and Aytaç Ünsal and 4 colleagues on February 3, 2020,both demanding a fair trial. Aytaç Ünsal and Ebru Timtik announced that they had turned hunger strike action into death fasts on Lawyers Day in Turkey, 5 April 2020.
Ebru and Aytaç have resisted for months with hunger for justice and the right to have a fair trial. Those who ignore their demand for justice have done everything to avoid meeting these demands. This resistance that lasted for months caused the health of Ebru and Aytaç to deteriorate with each passing day.
Due to the deteriorating health conditions of Ebru and Aytaç, their lawyers applied to the court. Upon this application, the Forensic Medicine Institute prepared a report about Ebru and Aytaç, stating that "they cannot stay in prison due to their health condition".
İstanbul 37th Heavy Penal Court decided to force Ebru and Aytaç to be hospitalized instead of evacuating, despite the report of the Forensic Medicine Institute. Upon this decision, Ebru and Aytaç were taken to two separate pandemic hospitals with a high infection risk. Ebru Timtik, who has been kept in a hospital room in terms of physical and hygienic conditions under harsher and risky conditions than a prison cell since July 30, was martyred on the 238th day of his resistance.
Ebru and Aytaç showed to the world how to act as a lawyer with their resistance. Years ago, in an action in front of the statue of Themis, the goddess of justice, inside the Istanbul Courthouse, Ebru cried out her demand for justice and demanded for freedom, saying, "Even if a lawyer dies, she will seek justice in her grave" and explained what being a lawyer means for the people's lawyers. That is why Ebru and Aytaç's Death Fast resistance is also of historical importance in terms of the lawyer profession. In the history of lawyers, there are rare examples of struggle against injustice and lawlessness to this point. They are the ones who have continued the tradition and have built their lawyer profession on it's real historical foundations since Nerva, the lawyer who started the death fast by doing the last thing he could against the tyranny of the Roman emperor Tiberius, against the injustices and injustices he witnessed.
With this resistance, Ebru and Aytaç disgraced the AKP fascism, announced their injustice to the world, as Nerva did to Tiberius, and explained that neither their judiciary system nor their rule no longer had a legitimate ground.
The martyrdom of Ebru is a proof that AKP fascism could not make Ebru and other lawyers of the people to bow their heads.
Who is the murderer of Ebru?
The murderer of Ebru is AKP Fascism, who unlawfully imprisoned her and ordered 159 years of sentence. The murderer is the AKP fascism that intervenes in the judiciary system at every stage, prevents Ebru and Aytaç's freedom with instructions and pressure, and makes all kinds of pressure on them not to be released even when they are on the verge of death. The murderer is AKP fascism who put Ebru in a narrow hospital room with no air, no sun, conditions worse than prison, kept her under isolation and torture, and accelerated her death in the last days of her. The killer is the judiciary of Turkey, who subjugated themselves to AKP fascism. They are the judges of the İstanbul 37th Heavy Penal Court. In order to prove themselves to AKP fascism, it is the the 16th Penal Chamber of the Court of Cassation that deliberately
prolonged the process by not examining the file that has been in front of them for months and caused Ebru's death. It is the hospital chief physician and doctors who have tortured Ebru for days, ignoring Hippocrates' oaths and professional ethics, even though she did not have a request and refused treatment.
They killed Ebru. We will not make them kill Aytaç!
We call out to the 16th Penal Chamber of the Court of Cassation; there is blood on your hands. You are the murderer of Ebru, do not be the murderer of Aytaç! Examine the file, apply the law, release all of our imprisoned colleagues, break this unlawful decision! Do not submit to AKP Fascism any more!
EBRU TİMTİK IS IMMORTAL!
OUR MARTY OF JUSTICE EBRU TİMTİK IS A SHINING EXAMPLE ON OUR STRUGGLE
LET'S PREVENT THEM TO KILL AYTAÇ ÜNSAL!
WE WANT JUSTICE!
LET THE DEMANDS BE MET, LET AYTAÇ ÜNSAL LIVE!
PEOPLE'S LAW OFFICE/INTERNATIONAL OFFICE